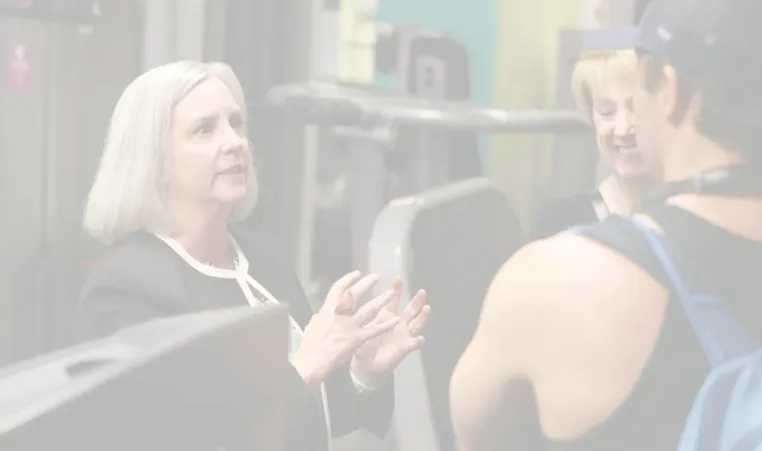 by Joyce Gannon

The indoor pool where generations of North Side residents learned to swim will remain, as will the Palladian-style windows that allow natural light to bathe the first-floor fitness center at the Allegheny YMCA. 
A planned $22.5-million renovation of the nearly century-old structure will also maintain 88 units of single-room occupancy for low-income men on three upper floors, and expand programming to include a year-round early learning center for young children. 
"It has great bones," Carolyn Grady, senior vice president and chief development officer for the YMCA of Greater Pittsburgh said during a tour of the building that since 1927, has occupied a prominent corner at West North Avenue and Monterey Street in the Mexican War Streets. 
Though fundraising isn't complete, Grady says she's "cautiously optimistic" that the project will move forward with a construction groundbreaking in 2024. 
Keeping the housing component is key, says Amy Haralson Kienle, president & CEO of YMCA of Greater Pittsburgh. 
"This facility is so centrally located" for its residents, she says, noting its location on a bus line with close proximity to Allegheny General Hospital, Allegheny Commons Park and social services providers.  
Tenants currently pay $400 per month; 10 rooms are set aside for homeless men with zero income through Allegheny County's Bridge Housing program. 
The YMCA expects small rent increases post-renovation to cover rising utility costs, says Grady. "But our commitment is to maintain affordable housing."
Jason Gamble, director of Bridge Housing/Residence and community resource director at the Allegheny YMCA, says the facility for decades has been "an important third space in the North Side" for tenants as well as neighborhood residents who gather there for exercise and interaction.
Teaming with the YMCA on the project is nonprofit developer Action Housing, its partner in the recent top-to-bottom makeover of the historic Centre Avenue Y in the Hill District, which also includes single-room-occupancy units. 
Financing for the ambitious Allegheny Y renovation is "complex," says Grady, and includes government funds, foundation grants and contributions from individual donors.
The project has secured $2.5 million from the state's Redevelopment Assistance Capital Program; a $1-million federal Community Development Block Grant; $300,000 from the Pennsylvania Housing Affordability and Rehabilitation Enhancement Fund; $150,000 from the Buhl Foundation; and $50,000 from nonprofit lender Bridgeway Capital. 
The YMCA has applied for a number of other funds including nearly $9 million in federal tax credits, along with grants totaling $2 million from the Urban Redevelopment Authority of Pittsburgh and foundation gifts.
It hopes to raise an additional $200,000 to $300,000 through a fundraising campaign that includes opportunities for donors to sponsor rooms at the facility "and own a piece of this," says Grady. 
Mosites Construction & Development is the contractor and the architect is David Noss of RSH Architects, who also designed the renovated Centre Avenue Y. 
During construction, residents won't be displaced but will move temporarily to other floors in the building. 
Among the biggest challenges, says Haralson Kienle, will be replacing heating and cooling systems and making the entire building accessible to individuals who can't use stairs.
Because the building's single elevator is no longer operating, chairs are placed on each floor for residents who need to rest as they climb several flights to their rooms — which are not air-conditioned but will be as part of the renovation. 
Members also use narrow staircases to access the basement-level pool and second-floor exercise space. 
The new early learning center for children ages 6 weeks to pre-kindergarten will occupy second-floor space originally built for duckpin bowling.
On residential floors, dormitory-style communal bathrooms will be converted to single-user shower rooms. Accessible bathrooms for individuals with disabilities will also be added. 
Each floor will have a laundry room — "a game changer," says Gamble because the existing facility has none. 
Though the YMCA doesn't provide meals, it plans to renovate a basement kitchen that can be used for events and by community volunteers. 
Residents each have mini refrigerators in their rooms, access to a communal microwave in a lounge and food donations from the Greater Pittsburgh Community Food Bank, 412 Food Rescue, Mom's Meals, Starbucks and other sources.
They also have access to the pool, fitness equipment and on-site counseling to connect with medical care and other needs including drug and alcohol recovery programs in the North Side.
The building will continue to house offices for a federally-funded food distribution program, which the YMCA administers and which serves about 250 daycare centers and after-school programs for adults and children throughout Western Pennsylvania. 
For Haralson Kienle, who this month marks one year as CEO, the project has been an opportunity to connect in-person with elected officials and community leaders as the YMCA seeks funding and approvals. 
When she took over the top job, the organization was still reeling from the impact of pandemic closures and a tumultuous period just before that, when financial woes forced it to shutter branches, lay off staff and file for Chapter 11 bankruptcy. 
The slimmed-down YMCA has erased its deficit and now has 122 full-time and 531 part-time workers year-round, with additional part-time employees for summer camps. 
In addition to operating six local branches, the YMCA runs Camp Kon-O-Kwee Spencer in Beaver County, Deer Valley Family Camp in Somerset County, 24 before-and-after school centers, three early learning centers, and 17 summer camps.
"I knew there was a lot of potential," says Haralson Kienle. "When I came, I knew the pandemic wasn't over but we were in a growth mode, not contracting.
The red and white neon sign that has hung from the corner of the building for decades will also stay in place.
"It's like a beacon on the North Side," says Grady. "A gorgeous piece of history."
https://nextpittsburgh.com/city-design/north-side-ymcas-22-5-million-renovation-will-honor-its-history-and-mission/?fbclid=IwAR2EC0K_byzf0oQIQr_DhKmexjvE1U2vqPpROomn_1YTuhTy5pZ76wH3yLU