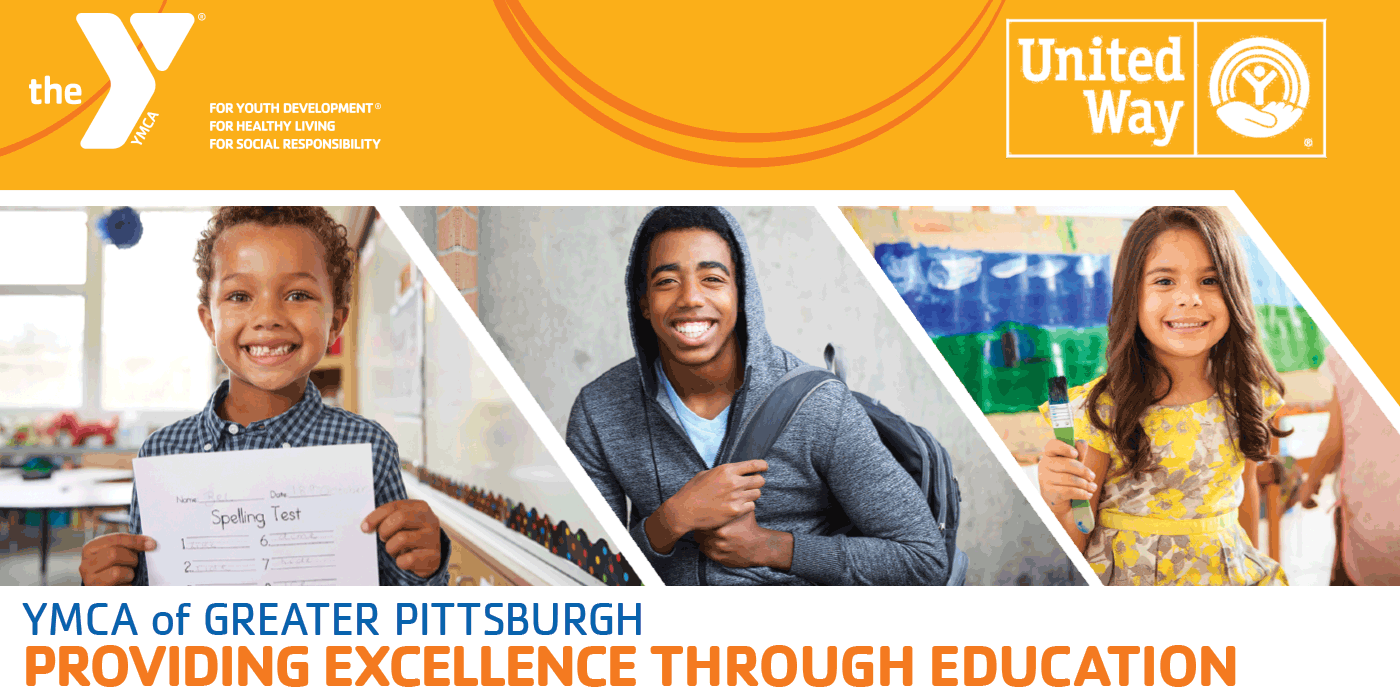 YMCA OF GREATER PITTSBURGH AND THE UNITED WAY OF SOUTHWESTERN PENNSYLVANIA
At the YMCA of Greater Pittsburgh, we're committed to changing the odds for the children in need in our community. Our goal is for our children to get a strong start in life that sets them on the path for life-long learning and success as adults. 
We accomplish this through programs such as: 
BASE (Before and After School Enrichment) program which provides a safe place and a healthy snack for children before and after school.
We inspire creative minds through Y Creator Space which provides STEM education and a hands-on approach to learning. 
We ready teens for college through our Y Achievers program which pairs students in with professional adults in the Greater Pittsburgh area to act as mentors. 
We provide the next musical engineers and creative designers with the tools they need to learn programming after school with our Lighthouse Project. 
Each year, the United Way allocates funds to the YMCA of Greater Pittsburgh, which helps support child care, school-age child care, summer day camps, teen activities, healthy living, skill development programs, and community outreach. 
Consider giving today through the United Way and help provide Excellence Through Education for children in your community. To direct your gift to the area of the greatest need, designate your gift to the YMCA of Greater Pittsburgh (113).
YMCA United Way Designation Codes
| | | | |
| --- | --- | --- | --- |
| YMCA LOCATIONS | Designation | YMCA OUTREACH AREAS | Designation |
| Allegheny YMCA | 7043 | YMCA of Greater Pittsburgh | 113 |
| Baierl Family YMCA | 4827 | Centre Avenue YMCA | 4655 |
| Homewood-Brushton YMCA | 4823 | Hazelwood YMCA | 4974 |
| Sampson Family YMCA | 4928 | YMCA CAMPS | Designation |
| Spencer Family YMCA | 4854 | Deer Valley YMCA Family Camp | 4721 |
| Thelma Lovette YMCA | 10257897 | YMCA Camp Kon-O-Kwee Spencer | 4143 |
| YMCA CHILD DEVELOPMENT | Designation | YMCA Camp Aim | 4668 |
| YMCA Childcare | 1525217 |   |   |
| Duquesne University Childcare Center | 3437 |   |   |